The Controversy Over Building Bike Lanes Isn't What You Think
This article appears on the ForConstructionPros website.

May 2, 2023
In a conversation about a recent infrastructure clash in Washington, D.C., Bill Klehm, CEO of e-mobility company "ebliss", talks about the realities driving changes in the market, this history of consumer demand and why it's better to be forward thinking.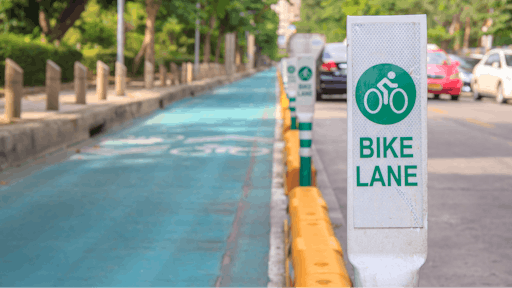 A recent battle in the nation's capitol over the building of bike lanes has ignited a familiar conversation about the economics of multi-modal transportation. There are forces in urban areas across the United States having these same conflicts over and over. It boils down to forces trying to make even the modest of changes towards more sustainable and non-car friendly transportation, and groups of other stake-holders who those changes as an impediment to their profitability. Regardless of the fact that research has shown time and time again that multi-modal transportation not only improves economic conditions for local businesses, including increases in foot traffic, it is still met with frequent resistance.
"I think people need to at least have the opportunity to consider what's really happening behind the scenes," said Bill Klehm, CEO of of e-mobility company ebliss. "In the early 1900s, the US consumer, predominantly wanted a new independent form of transportation, automobiles offered that. There was no infrastructure, but there was innate consumer demand for a change in the way people were mobile. Building cars and building the infrastructure went hand-in-hand, the infrastructure followed demand as did policy. Consumer demand is the root of all of this. If consumers didn't want it, we wouldn't be having this conversation."
This point is important to note, because what the emerging generation of consumers value, and subsequently, what they demand is evolving, says Klehm. A recent post on ForConstructionPros.com breaking down American driving trends reported that, according to the American Association of State Highway and Transportation Officials, "There is an increasingly large divide between U.S. generational groups and their Vehicle Miles Traveled (VMT). Millennials (those born between 1981 and 1996) are driving 8% less than Gen X (1965 to 1980), and 9% less than younger baby boomers (1956 and 1964)."
"One of the points of reality is that U.S. cities were built for cars and not built for a multimode transportation network," Klehm said. "So this conversion is going to be painful, but if anybody thinks this shift is not going to happen, they're very sadly mistaken."
The Arguments Against Bike Lanes Don't Add Up
If you take the current situation in Washington, D.C. as an example, the arguments against the implementation of new bike lanes on busy, congested city streets boil down to two things:
Transforming service lanes into protected bike lanes will increase congestion and, ultimately, commuter times.

The addition of bike lanes will negatively impact the economics of retail businesses, and subsequently, tax revenues for the city.
These are the talking points used to leverage sudden and drastic, eleventh-hour changes to the proposed bike lanes in downtown D.C., despite three years of planning and public meetings on the matter. They are the factors that, on the surface, you would think are driving the controversy around bike lanes, however, Bill Klehm thinks the reality is somewhat of a different nature.
"I don't even know how many times I've had this conversation with people," He said. "It's the short sighted nature of how everybody looks at investment strategies. For example, instead of an apartment owner looking at this as an opportunity to create a competitive advantage, they mainly see it as a disruption."
Addressing the first argument, about congestion and commuter times, take a recent comparable example in the notoriously congested city of Atlanta, GA, which brought in e-mobility solutions as an experiment to ease congestion. In 2019, the city banned the electric devices, and the results spoke for themselves. In an article by Georgia Public Broadcasting, Peter Biello said, "Without the e-scooters and e-bikes, people mostly turned to personal vehicles and ride-sharing, which added 784,000 hours of travel time each year for Atlantans. That extra time on the road costs drivers millions of dollars in time lost."
In a 2022 study1 titled Impacts of micromobility on car displacement with evidence from a natural experiment and geofencing policy it showed a correlation between the banning of "micromobility" solutions and a rise in transit times, congestion, and emissions; it surmised that, "given the growing popularity of restrictions on the use of micromobility devices globally, cities should expect to see trade-ofs between micromobility restrictions designed to promote public safety and increased emissions associated with heightened congestion."
The second argument against them, primarily focused on economic impacts to local business is tenuous at best. The argument revolves around catering to the outside population, the very group that essentially devalues the urban properties because they live in the suburbs. Their taxes go there. However, investing and building more accessible downtown areas (plus, adding more affordable housing wouldn't hurt either) through the addition of micromobility solutions, makes living and working in the area much more attractive, especially to young professionals.
Just in terms of space alone, where only one car carrying as little as a single person might take up space to park, nearly eight scooters or ebikes could be able to fit in that same space. That generates a lot more people potentially visiting your retails shops and restaurants. People want to have access to what cities offer in terms of opportunity, entertainment, and infrastructure, but they also want to be able to navigate that environment on better terms.
"There is there is a there's a body of data that shows the most efficient way to get around urban environments is on is on two wheels or on two feet," Klehm said.
So, we are left asking the same question as before. If the two main stated reasons for opposition are easily overcome, what is the underlying resistance tied to?
"A lot of times certain property owners don't want to make the needed changes or improvements," Klehm continued. "They don't want to change how the pattern works. The infrastructure was placed when the car was the standard, and now as the car is becoming less of the standard, everybody is fighting because they don't want to change, because every time there's change, there's potential for loss."
For road builders and contractors, there's a good amount of incentive to support the redevelopment of city streets. The bottom line is that it leads to more work, and that alone is good for our industry. Therein lies what might possibly be the real driving force for those who don't want these changes to happen. In a news story for BISNOW, Bill Miller, the principal of Miller Walker Retail Real Estate might have said the quiet part out loud. ""You start digging up the entire street, relocating all the utilities on K Street, it's a three-year year construction project," he said. "At the entrance to downtown, is this the right time to do that?"
It reveals a shortsighted perspective on the city, what it needs, and what its residents actually want. Yes, in the short-term there may be traffic disruption due to the construction needed to make the bike lane improvements. However, in the long-term, it is undoubtedly better for the health of the population, the economics of downtown areas, and even better for those still commuting in for work or events.